Nameplates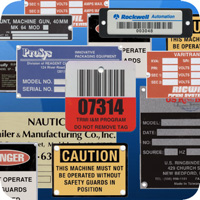 Our screen printed Nameplates can be used to provide various kinds of information (such as model number, serial number, control number, RPM, horsepower, service date, voltage rating, etc.) Available in aluminum, stainless steel, brass, and copper. Plates can be supplied with or without adhesive backing or mounting holes.
Kenmore's Metal Marking Tags & Plates are suitable for applications where permanent identification is of primary importance. We can supply tags to meet your specifications in brass, copper, aluminum, zinc, steel, and stainless steel. Sizes range from 1/4" x 1/4" to 6" x 6". Markings are available with raised (embossed) or depressed (debossed) lettering, enamel-filled or consecutively numbered.
Call Toll Free (855) 498-7170 and we'll provide a prompt, competitive quote based upon your requirements. You may also complete the form below and we'll contact you by phone/email with a quote.
Powered by

EMF
Web Form
Report Abuse
There are no products listed under this category.